Using the "Preview" app that comes pre-installed your Mac, it's easy to combine multiple PDF files. We'll show you how to combine PDF files and add one or multiple pages to a PDF using Preview, and provide an even easier alternative at the end.
Combine PDF files using Mac Preview
1. Open your PDF
If you're like many Mac users, Preview is the default app when you open any image file. But if you've ever installed Adobe, for instance, you might need to specifically select "Open With" to pull up your PDF in Preview.
In your Finder app:
-right-click your PDF file
-hover over the "Open With" dropdown
-click "Preview"
2. Click the "Edit" dropdown menu
With your PDF open in Preview, click "Edit" in the top menu.
Then hover over "Insert" and select "Page from File". This will open up your Finder.
Once you locate the PDF you want to merge into your already-open PDF, click "Open".
Congrats, you've successfully combined PDF files using Mac! Now all you need to do is click "File", "Export", and then save your newly combined PDF wherever you want on your computer.
Just be sure to give it a new file name, ideally one that's easy for you to remember! And consider password protecting your new PDF if it contains sensitive information.
Add page or multiple pages to PDF with Mac Preview
1. Open both PDFs
Use the Preview app to open both PDFs, and line them up side-by-side.
2. Make "Thumbnails" visible
Near the top-left corner of your PDF in Preview, click the window-looking icon. In this dropdown menu, click "Thumbnails" to make the thumbnails of your PDF visible.
Make sure you can see thumbnails on both of your PDF files. Both sides must be visible to add PDF page/s from one PDF to the other.
3. Drag and drop the page/s you want to combine
Click on the page you want to merge, and drag it to the other PDF you've got open in Preview. You can drag it anywhere you want within the PDF — at the top, the bottom, or anywhere in-between.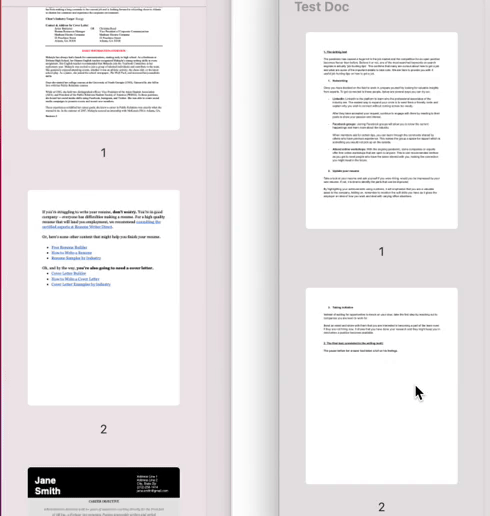 4. Save your newly merged PDF
Don't forget to save your new PDF! All you need to do at this point is click "File", "Export", and then name it, and you're done.